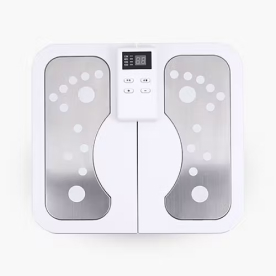 Circulation Boost Foot Massager
$44.95
Improve blood circulation
Relieve foot aches, pains
Tighten leg shape
No Need for Painkillers

30 Day Money Back Guarantee on All Purchases

Under 24 Hour Worldwide Processing & Shipping
Effective Foot Massage Machine: Our electric foot massager machine with TENS pad uses modern intelligent bioelectric technology to perform a variety of massage techniques on the foot even to the whole body. It is a circulation booster for feet and legs, helps with foot cramps, plantar fasciitis, foot swelling, and fatigue of the feet and calves. Moreover, use the ENS pad meanwhile to effectively relieve the pain of knees, elbows, joints, etc.

Health Protector & Beauty Enhancer: Our EMS foot circulation massager based on EMS technology works quite well on muscle contraction via stimulating the electrical impulses, helps reduce swelling and looks slim, Plus, the foot massage mat is also beneficial in building body muscle, therefore shaping an admiringly healthy body.

Seven Modes & Auto Off: Features 7 modes and 50 levels of intensity adjustment. You can adjust it according to your strength and physical condition. The leg massagers for pain and circulation are equipped with a 30-minute automatic off function. With safety protection and power-saving functions, you can use it with more peace of mind.

Wide Application: Suitable for people who are sedentary office workers, have feet discomfort, have cold bodies. (Note: It is forbidden for people going through the following: Pregnancy, high blood pressure, heart disease, placing a pacemaker, or implanting a cardioverter defibrillator). Also, it is applied to those who take exercise often, favors long-distance trips, bike rides, dancing, or rock climbing or wear high heels regularly.

Portable and Rechargeable: The leg massager machine are foldable and rechargeable, easy to carry anywhere. You can enjoy relaxing wherever you go. This leg massager is also an ideal gift for friend or your relatives. The warranty period of the product is 1 year, and if it is damaged, it can be replaced free of charge. If you have any questions, please feel free to contact us. Please be assured that we will respond to you within 24 hours.
Colour Name: White
Power source - Corded Electric
Brand - Triplekind
Colour - White
Specific uses for product - Pain Relief,Plantar Fasciitis
Product dimensions - 20L x 5W x 5H centimetres
Product benefits - Pain Relief
Frequently Asked Questions
How do I know my order is secure?

When you make purchases online on our site, we always safeguard your payment data. That's why there is an image of a padlock next to the domain address.

In order to do that, we always use an SSL Certificate. How do you know we have this certificate? An icon of a locked padlock should appear in the URL bar of your browser. Plus, our website domain name should start with https://, which means our website is secure.


An SSL (secure sockets layer) is an encryption method that all online retailers who deal with credit or debit card details must have. An SSL encryption stops hackers from accessing your personal or financial information, ensuring your details are secure and safe.
Yes! We ship globally to most locations.
Do you provide tracking?

Yes. All items that we dispatch have door-to-door tracking available through our Support Center and a dedicated tracking link.
What if my package is held?

Sometimes your package may be held by your local postal office, courier or customs. In these cases, please reach out to the direct holders of your package at that time. If you are unable to make progress, please speak to our team.
What if I want to return an item?

We are happy to help you return any unwanted items. Simply speak to our Customer Service team via the Support Center and we'll help you handle the return quickly and efficiently.