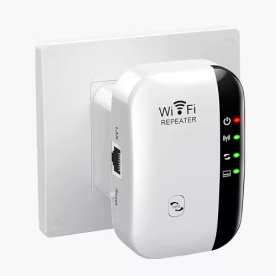 WiFi Range Extender
$24.95
Super Signal Coverage: High Speed and High range coverage to boost the wireless coverage in all WLAN networks, Extend WiFi signal to dead zone, create a stronger signal with transmission rate up to 300Mbps. You can online games, video conferences and even play 4K high-definition video anytime and anywhere at home.
Supports 2 Mode: Wi-Fi Extender has Ethernet Ports with Repeater/AP, can easily turn your wired Internet connection into a wireless access point.most home users will set it up in one of two ways: Range extender (it connects to your existing wireless network wirelessly and enhances/extends the signal) or Access Point (it connects to the Internet or your existing network via Ethernet and then broadcasts the wireless signal.
Wide Compatibility:

Compatible with any wireless network devices that comply with the aggrement of 802.11N/B/G, Router, Modem and Wi-Fi devices like Smartphone,Tablet, Laptop,Smart TV etc.

Safe Internet Environment:

This Wifi extender can maximize network security, ensure your network safety problem. It plays an effective role in preventing others from stealing your network, protecting your important data, and avoiding Wi-Fi interference and privacy issues.Supports Wireless Security: WPA/WPA2. Ideal for home, company and travel in use.

One-touch set up:

Tap WPS connects to your device within 1 minutes, Wall plug design and portability. Or use the web browser on your smartphone/tablet /PC for settings. It is easy to set up according to the user manual, without complicated steps and techniques.

30 Day Money Back Guarantee on All Purchases

Under 24 Hour Worldwide Processing & Shipping
Wifi Range Extender has two built-in antennas, dual LAN ports, and an easy-to-read signal strength indicator. This new unique design powers up your home WiFi. Wifi Range Extender spreads Wi-Fi all around your household turning it into one large hotspot. Roam around your house or even backyard and stay connected all the time. Wifi Range Extender also functions as a router and an access point, which makes it perfect for travel and business trips.
Brand: WiFi Range Extender
Wireless communication standard: 802.11bgn
Data transfer rate: 300 Megabytes Per Second
Special feature: Repeater/AP Mode, WiFi Booster, 802.11N/B/G, Alexa Compatible, WiFi Range Extender, Network Security, 300mbps/2.4Ghz, Access Point Mode, Strong Signal Long Range Amplifier, 1-Tap Setup
Colour: White
Included components: WiFi Extender Signal Booster (UK Plug), RJ45 Ethernet Cable, User Manual
Item dimensions L x W x H: 8 x 5 x 5 centimetres
Compatible devices: Router
Frequency bands supported: 2.4GHz
Frequently Asked Questions
How do I know my order is secure?

When you make purchases online on our site, we always safeguard your payment data. That's why there is an image of a padlock next to the domain address.

In order to do that, we always use an SSL Certificate. How do you know we have this certificate? An icon of a locked padlock should appear in the URL bar of your browser. Plus, our website domain name should start with https://, which means our website is secure.


An SSL (secure sockets layer) is an encryption method that all online retailers who deal with credit or debit card details must have. An SSL encryption stops hackers from accessing your personal or financial information, ensuring your details are secure and safe.
Yes! We ship globally to most locations.
Do you provide tracking?

Yes. All items that we dispatch have door-to-door tracking available through our Support Center and a dedicated tracking link.
What if my package is held?

Sometimes your package may be held by your local postal office, courier or customs. In these cases, please reach out to the direct holders of your package at that time. If you are unable to make progress, please speak to our team.
What if I want to return an item?

We are happy to help you return any unwanted items. Simply speak to our Customer Service team via the Support Center and we'll help you handle the return quickly and efficiently.