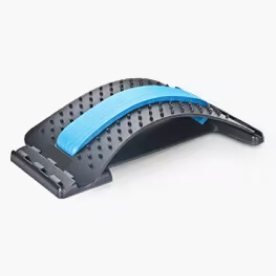 Physiotherapy Back Stretcher
$39.95
Corrects your posture and relieves back pain in 10 mins per day.
Helps to relieve back pain and spinal pressure.
Short Term Results: After the first stretching session you will be able to notice improvements and relief that lasts the entire day.
Long Term Fix: On average, customers have manifested improvements after 3 to 5 days of constant and proper use and significant relief after 2 weeks of use.
Confidence & Posture: It is designed to sync with your spine's natural curvature and be comfortable enough for you to relax and stretch passively. After 2 weeks you will be walking taller and more confident with a better posture.

30 Day Money Back Guarantee on All Purchases

Under 24 Hour Worldwide Processing & Shipping
This is a multi level stretching device that allows you to stretch out your back, and relieve back pain in the comfort of your home or office at any time needed. The device combines stretching and acupuncture therapy to improve blood flow through the spine, allowing nutrients to flow in, which eventually leads to pain relief.

Using the power of gravity, this Back Stretcher restores the natural curvature of the back and might reverses years of damage of wrong posture and relief chronic back pain in just 10 minutes a day. Quick and long term results
Type: back stretcher
Application: Waist
Function: Relieve pains, Pains relief, Posture corrector
After-sale Service: Return and Replacement
Product Name: Back stretching device
Color: Black with blue
Material: ABS
Feature: Portable
Massage area: Back, Waist, Lumbar
Size: Customized Size
Usage: Personal Health Care
Frequently Asked Questions
How do I know my order is secure?

When you make purchases online on our site, we always safeguard your payment data. That's why there is an image of a padlock next to the domain address.

In order to do that, we always use an SSL Certificate. How do you know we have this certificate? An icon of a locked padlock should appear in the URL bar of your browser. Plus, our website domain name should start with https://, which means our website is secure.


An SSL (secure sockets layer) is an encryption method that all online retailers who deal with credit or debit card details must have. An SSL encryption stops hackers from accessing your personal or financial information, ensuring your details are secure and safe.
Yes! We ship globally to most locations.
Do you provide tracking?

Yes. All items that we dispatch have door-to-door tracking available through our Support Center and a dedicated tracking link.
What if my package is held?

Sometimes your package may be held by your local postal office, courier or customs. In these cases, please reach out to the direct holders of your package at that time. If you are unable to make progress, please speak to our team.
What if I want to return an item?

We are happy to help you return any unwanted items. Simply speak to our Customer Service team via the Support Center and we'll help you handle the return quickly and efficiently.