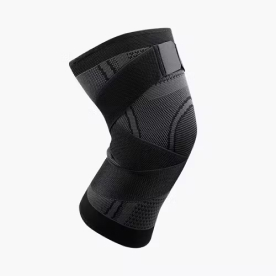 KneeProtect Compression Sleeve
$39.95
Pain Relief and Preventing Injury: The knee support ergonomic design can prevent muscle strain, protect ligaments and improve activities such as hiking, jogging, and weightlifting, reduce pain and speed up recovery from arthritis, swelling, tendinitis and knee pain.
Adjustable Straps:

Knee sleeve support have a Strap avoid sleeve up and down sliding and tumbling by exercise. High-precision 3D knitted technology ensures 360°perfectly fit your kneecap. Help you get the support you need with all day and all night comfort.

Moisture Wicking Fabrics:

Knee support brace Made of comfortable and breathable knitted fabric, it can quickly remove the moisture in exercise, so that you can always keep your knees comfortable when running, jogging, hiking, football, basketball, and walking.

Suitable for a variety of sports:

Our knee compression sleeves are suitable for a variety of sports activities, such as baseball, gymnasium, tennis, volleyball, biking and other activities where joints are subject to a lot of pressure! You will be able to enjoy excellent knee support.

2 PCS Knee Brace:

This Packages has 2 packs knee brace, which will support you all day and night while 1 in wash machine, the other can still be used.

30 Day Money Back Guarantee on All Purchases

Under 24 Hour Worldwide Processing & Shipping
Our products have very good practicability and wide applicability. They are also good gifts for the elderly, friends, family and lovers. Breathable Fabric - Our knee braces are made of high-quality Nylon and Spandex, which are not only elastic, but also breathable and sweat wicking to keep you moving well.

3D Knitting - The knee Support adopts 3D knitting technology, and different parts adopt different knitting methods to provide different pressures for different parts of your knee. Pressure Bandage - Two elastic straps, on the one hand, can provide more powerful support for your knee, on the other hand, can prevent the knee sleeve from slipping during exercise.
Brand: Protection Compression Sleeve
Size: Medium
Specific uses for product: Tendinitis, Meniscus Tear, Arthritis, Pain Relief, Knee Support, Tendonitis, Swelling, Muscle, Sliding
Use for: Knee
Age range: (description) Adult
Frequently Asked Questions
How do I know my order is secure?

When you make purchases online on our site, we always safeguard your payment data. That's why there is an image of a padlock next to the domain address.

In order to do that, we always use an SSL Certificate. How do you know we have this certificate? An icon of a locked padlock should appear in the URL bar of your browser. Plus, our website domain name should start with https://, which means our website is secure.


An SSL (secure sockets layer) is an encryption method that all online retailers who deal with credit or debit card details must have. An SSL encryption stops hackers from accessing your personal or financial information, ensuring your details are secure and safe.
Yes! We ship globally to most locations.
Do you provide tracking?

Yes. All items that we dispatch have door-to-door tracking available through our Support Center and a dedicated tracking link.
What if my package is held?

Sometimes your package may be held by your local postal office, courier or customs. In these cases, please reach out to the direct holders of your package at that time. If you are unable to make progress, please speak to our team.
What if I want to return an item?

We are happy to help you return any unwanted items. Simply speak to our Customer Service team via the Support Center and we'll help you handle the return quickly and efficiently.