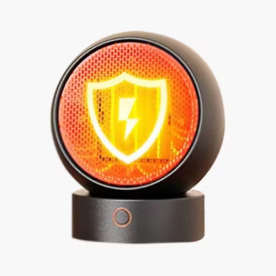 Mini Electric Personal Heater
$39.95
Cute & Quiet: Compared to traditional bulky heater, this small heater is cute, fashionable and compact, with simple and elegant appearance design, which makes this heater looks more modern and aesthetic. Not only is it cute, but it's also so quiet that you can't even hear any voice when it's working. A ideal gift for family, friends.
Space Saving: The size is about 4.9 x 6.3 x 7.6 inches, compact design makes this mini space heater easy to fit anywhere or move around and do not take up any space. perfect for office, under desk, bedroom and bathroom.
3 Settings Adjustable: There are 3 operation mode for you to choose, #1setting is cold wind mode, #2 setting is 660W low-heat mode, and #3 setting is 1000W high-heat mode, so you can choose the desired temperature, bring you the proper warmth as you need. it also can be used as a cooling fan to cool you down when you feel too hot.
Safer to Use & 6H Timer: Designed with automatically shuts off when tipped over accidentally and Overheating protection, which is extremely important for any house that has pets. this little space heater will automatically shut off after 6 hours of use, safer to use!
Flexible Heater Area: With adjustable air outlet design, this desktop heater can rotate from 0° to 15 ° left and right, so it can heat the parts of the body that you want to heat, heats up quickly, warm you the whole winter.

30 Day Money Back Guarantee on All Purchases

Under 24 Hour Worldwide Processing & Shipping
This portable heater is a smart solution for freezing offices and cold areas in your home. the compact and portable feature makes it very convenient to move around and put anywhere you want.

Even small but very efficient, you'll be surprised how compact it is, but impressive on how much heat the portable heater can put out! Perfect for the office, bathroom, reading room, bedroom, or any indoor area. Take it along, wherever you go, whenever warmth comes.

The Best Partner In Winter. Say bye To Coldness!

Compared to a traditional bulky space heater, this small space heater is so cute and stylish, simple and elegant appearance makes this small heater looks more modern and aesthetic, It is not only a mini electric heater but also goes so well with your decor.
Brand: Mini Electric Personal Heater
Colour: Black
Power source: Corded Electric
Heating method: Convection
Product dimensions: 16D x 12.4W x 19.3H centimetres
Frequently Asked Questions
How do I know my order is secure?

When you make purchases online on our site, we always safeguard your payment data. That's why there is an image of a padlock next to the domain address.

In order to do that, we always use an SSL Certificate. How do you know we have this certificate? An icon of a locked padlock should appear in the URL bar of your browser. Plus, our website domain name should start with https://, which means our website is secure.


An SSL (secure sockets layer) is an encryption method that all online retailers who deal with credit or debit card details must have. An SSL encryption stops hackers from accessing your personal or financial information, ensuring your details are secure and safe.
Yes! We ship globally to most locations.
Do you provide tracking?

Yes. All items that we dispatch have door-to-door tracking available through our Support Center and a dedicated tracking link.
What if my package is held?

Sometimes your package may be held by your local postal office, courier or customs. In these cases, please reach out to the direct holders of your package at that time. If you are unable to make progress, please speak to our team.
What if I want to return an item?

We are happy to help you return any unwanted items. Simply speak to our Customer Service team via the Support Center and we'll help you handle the return quickly and efficiently.