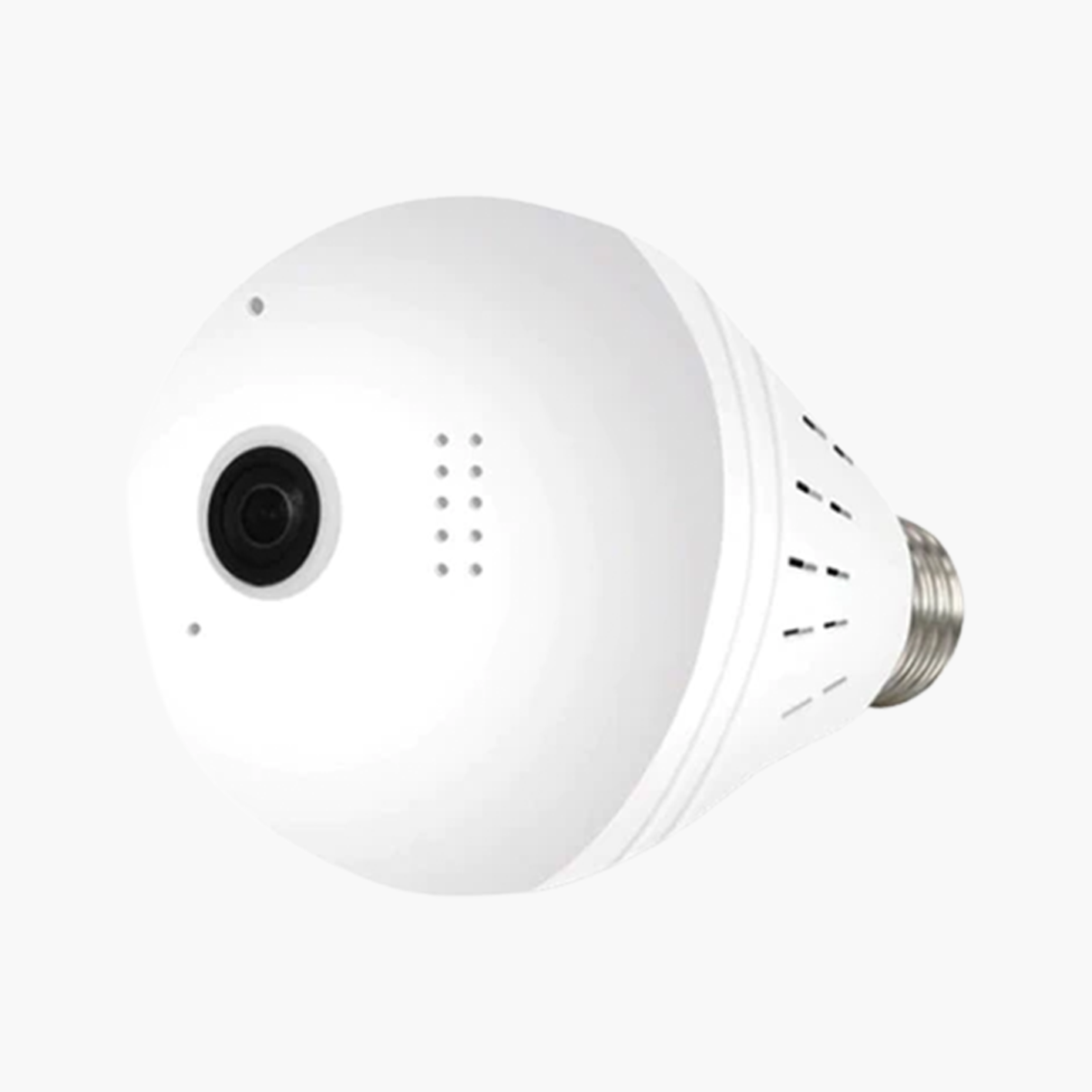 Secret Security Cam Bulb
$69.95
A panoramic camera light bulb provides a 360° panoramic view on your smartphone
Motion detection alarm sends instant alarm alert via applications push to your phone
Provides you a facility to monitor while you are away from home, shop, or office
Easy to use and install
Looks and works like an LED bulb

30 Day Money Back Guarantee on All Purchases

Under 24 Hour Worldwide Processing & Shipping
The All-In-One Security Camera with a camera to see anything that happens within your room. This device is attached to any standard light bulb and can transmit video wirelessly in real time. It has an audible alarm which you can also activate remotely to scare away intruders or notify others of any incidents that have taken place. Through the app, you can record video and view images on a smartphone or tablet. Ensure the safety of your home, friends, loved ones or employees by keeping an eye on what matters most!
Image sensor: 1/3 Progressive Scan CMOS
Built in lens: 1.44mm, 360 degrees lens
View Angle: 360 degrees
Manual video format: MP4 (1280x960P, storage in mobile)
Video compression standard: H.264 (Storge in TF card )
Audio compression standard: G.711 (Storge in TF card )
Video frame rate: Maximum 25 frames
Video playback mode: Mobile client
Audio Input: built in microphone; Audio output: built-in speaker
Illumination: 3pcs White LED, power consumption 1W
Local storage: TF card, maximum support 128G(not included)
Cloud Storage: Support
Support multiple protocols: TCP/UDP、IP、HTTP、SMTP、DHCP、DDNS、UPNP、NTP
WiFi protocol: IEEE 802.11b/g/n
Alarm action: Mobile client push screenshot
User settings: Max share to 5 users
System interface: E27 (Europe) TF interface
Supply voltage: AC 100~240V
Power consumption:<5W
Working temperature: 0℃ -60℃
Frequently Asked Questions
How do I know my order is secure?

When you make purchases online on our site, we always safeguard your payment data. That's why there is an image of a padlock next to the domain address.

In order to do that, we always use an SSL Certificate. How do you know we have this certificate? An icon of a locked padlock should appear in the URL bar of your browser. Plus, our website domain name should start with https://, which means our website is secure.


An SSL (secure sockets layer) is an encryption method that all online retailers who deal with credit or debit card details must have. An SSL encryption stops hackers from accessing your personal or financial information, ensuring your details are secure and safe.
Yes! We ship globally to most locations.
Do you provide tracking?

Yes. All items that we dispatch have door-to-door tracking available through our Support Center and a dedicated tracking link.
What if my package is held?

Sometimes your package may be held by your local postal office, courier or customs. In these cases, please reach out to the direct holders of your package at that time. If you are unable to make progress, please speak to our team.
What if I want to return an item?

We are happy to help you return any unwanted items. Simply speak to our Customer Service team via the Support Center and we'll help you handle the return quickly and efficiently.