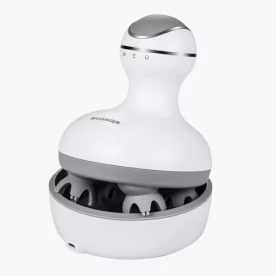 Stress Relief Scalp Massager
$34.95
Scalp Massager: With 28 individual nodes and 3D Deep-Kneading, perfectly fit the scalp, hand-simulation and fully massage head. Increase blood circulation to the scalp, promoting relaxation, releasing stress and relieving sore.
Warm Tips: When massaging your body, please use body lotion and please make sure you are not allergic to silicone.
Waterproof & 4 Modes:

Dry and wet dual purpose,IPX7 grade of waterproof, you can enjoy comfortable scalp massage while relaxing yourself thoroughly with 4-modes tension like a physical therapist.

Cordless and Rechargeable:

One button operation, easy to use. Enjoy a perfect massage anywhere without an annoying wire, get a full charge one time and you will enjoy a two-hour massage. Relieve tension from your office, home or even your car. LEISURE WHEN YOU NEED IT.

Patented Hand-Simulation & Safety Protection: This Head Massager is custom-designed,total 28 contactors are perfectly fit the scalp, deep and fully massage head and body. Great ideal gift for men, women, parents and friends. With 1 year warranty.

30 Day Money Back Guarantee on All Purchases

Under 24 Hour Worldwide Processing & Shipping
Unique features helps promote scalp health. Lifts away dead skin cells and oil buildup on the scalp. Pairs well with your favorite shampoo and conditioner. Increases blood flow to the scalp. Thoroughly cleans braids, weaves, and extensions. Vibrations offer a relaxing massage. Package Content: 1×Scalp Massager: 1×Charging Base: 1×User Manual: 1×USB Cable
Use for: Whole Body
Power source: Corded Electric
Material: Silicone
Brand: Stress Relief Scalp Massager
Colour White - Dark Grey
Massager form: Massage_knobber
Specific uses for product: Body
Product benefits: Blood Flow Control
Frequently Asked Questions
How do I know my order is secure?

When you make purchases online on our site, we always safeguard your payment data. That's why there is an image of a padlock next to the domain address.

In order to do that, we always use an SSL Certificate. How do you know we have this certificate? An icon of a locked padlock should appear in the URL bar of your browser. Plus, our website domain name should start with https://, which means our website is secure.


An SSL (secure sockets layer) is an encryption method that all online retailers who deal with credit or debit card details must have. An SSL encryption stops hackers from accessing your personal or financial information, ensuring your details are secure and safe.
Yes! We ship globally to most locations.
Do you provide tracking?

Yes. All items that we dispatch have door-to-door tracking available through our Support Center and a dedicated tracking link.
What if my package is held?

Sometimes your package may be held by your local postal office, courier or customs. In these cases, please reach out to the direct holders of your package at that time. If you are unable to make progress, please speak to our team.
What if I want to return an item?

We are happy to help you return any unwanted items. Simply speak to our Customer Service team via the Support Center and we'll help you handle the return quickly and efficiently.