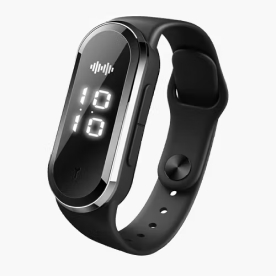 Ultrasonic Mosquito Repellent Band
$39.95
Natural pure physical mosquito repellent, three-speed frequency adjustment, safety and environmental to protection all-weather protection.
Built-in intelligent chip, intelligent control and energy saving, fast charging in 30 minutes, long standby time.
The bracelet has a fine structure, and the mosquito repellent time function is two-in-one, small and light, easy to carry and use.
Premium silicone wristband, soft and skin-friendly, flexible design, you can adjust the length according to your needs and wear comfortably.
Wide applicability, sonic surround protects you and your family from mosquitoes, no matter indoor or outdoor, home, office, camping, hiking, fishing, etc.

30 Day Money Back Guarantee on All Purchases

Under 24 Hour Worldwide Processing & Shipping
Inverter mosquito repellent: Bracelet forms a protective barrier by emitting variable frequency sound waves, with three frequencies, which interfere with the hearing and nervous system of mosquitoes, making them uncomfortable and stay away to achieve the effect of repelling mosquitoes

Save time and energy: Ultrasonic wristband, built-in smart chip, USB fast charging, only need 30 minutes of charging time, can continue to work for a week, to meet a long-time needs of mosquito repellent

Humanize design: Mosquito repellent bracelet can also be used as an electronic clock to display the time. It is equipped with a soft and skin-friendly silicone wristband, which can be adjusted in length to wear comfortably according to the size of the wrist

Safe and reliable: Pure physical mosquito repellent bracelet, no chemicals, non-toxic and harmless, no impact on the human body, healthy and environmentally friendly, very suitable for children, adults and the elderly

Use anywhere: Anti-mosquito bracelet effectively repels mosquitoes, can protects you and your family from mosquito bites all day long, whether indoors or outdoors, home, office, camping, hiking, fishing, etc.
Item Name: Ultrasonic Mosquito Repellent Band
Function: Mosquito repellent and time display
Input: 5V/1A
Output: 34Hz-70KHz
Charging time: About 30 minutes
Endurance working time: About 150 hours
Size: 260mm x 22mm
Color: Black
Frequently Asked Questions
How do I know my order is secure?

When you make purchases online on our site, we always safeguard your payment data. That's why there is an image of a padlock next to the domain address.

In order to do that, we always use an SSL Certificate. How do you know we have this certificate? An icon of a locked padlock should appear in the URL bar of your browser. Plus, our website domain name should start with https://, which means our website is secure.


An SSL (secure sockets layer) is an encryption method that all online retailers who deal with credit or debit card details must have. An SSL encryption stops hackers from accessing your personal or financial information, ensuring your details are secure and safe.
Yes! We ship globally to most locations.
Do you provide tracking?

Yes. All items that we dispatch have door-to-door tracking available through our Support Center and a dedicated tracking link.
What if my package is held?

Sometimes your package may be held by your local postal office, courier or customs. In these cases, please reach out to the direct holders of your package at that time. If you are unable to make progress, please speak to our team.
What if I want to return an item?

We are happy to help you return any unwanted items. Simply speak to our Customer Service team via the Support Center and we'll help you handle the return quickly and efficiently.